Governance at a Glance
| Board Members | Audit and Corporate Practices |
| --- | --- |
| | |
| | |
| | |
| | |
| | |
| | Audit and Corporate Practices |
| | Audit and Corporate Practices |
| | |
| | |
| | |
| | |
| | |
Luis Campos
Mr. Luis G. Campos is President of Betterware de Mexico and prior to that he was President of Tupperware Americas, including Canada, USA, Central and South America. Prior to joining Tupperware, Mr. Campos held a number of senior management positions in Mexico for international and local firms. He served as President and Chief Executive Officer for Sara Lee – House of Fuller. Under his leadership, House of Fuller became the second largest direct selling company in Mexico. Preceding House of Fuller, Mr. Campos served as General Director for Auriken-Hasbro de Mexico, a U.S. toy manufacturing and sales organization. In this position, Mr. Campos was recognized for bringing Auriken-Hasbro to a market leader position in the very competitive toy market. Earlier positions included progressive general management position with the magnetic media firm Aurex. Mr. Campos brings with him a strong commercial and financial background as an enhancement to his proven general management skills. His University studies prepared him in the economics and accounting area in which he practiced in his early career as a consultant with Price Waterhouse. He was an active member of the Direct Selling Association, The Latin America Regional Managers' Club, The Conference Board, and a board member of the Economic Development Commission of Mid Florida, Casa Alianza-Covenant House, The Metro Orlando International Affairs Commission, SunTrust Bank and Casa de Mexico de la Florida Central, Inc.
He is now an active member of:
-Consejo Consultivo of Banamex
-Consejo de la Comunicación
Andres Campos
Mr. Campos has been CEO of Betterware de Mexico since 2018. Prior to becoming CEO, within the Company, Mr. Campos served as Commercial Director (2014 – 2018) and Strategy and New Businesses Director (2012 – 2014). Prior to Betterware, Mr. Campos worked in the Corporate Banking area of Grupo Financiero Banamex (2005 – 2010) and in KPMG as an Auditor (2004 – 2005). Mr. Campos holds a bachelor's degree in Business Administration from Monterrey Institute of Technology and Higher Education (Instituto Tecnologico y de Estudios Superiores de Monterrey – "ITESM") and an MBA from Cornell University.
Santiago Campos
He serves as Director of Innovation and Communication at Betterware since 2018. Prior to joining Betterware, Mr. Campos served as Commercial Director at EPI Desarrollos, a real estate development company. Mr. Campos holds a bachelor's degree in public accounting and finance from Monterrey Institute of Technology and Higher Education (Instituto Tecnologico y de Estudios Superiores de Monterrey – "ITESM").
Martin Werner
He is Co-Founding Partner at DD3 Capital Partners. Mr. Werner worked at Goldman Sachs as Managing Director in (2000-2006) and a Partner (2006-2016), was Co-Head of the Investment Banking Division for Latin America and the Country Head of the Mexico office. Mr. Werner served in the Mexican Treasury Department as the General Director of Public Credit and as Deputy Minister (1995-1999). Mr. Werner holds a bachelor's degree in Economics from Mexico Autonomous Institute of Technology (Instituto Tecnologico Autonomo de Mexico - "ITAM") and a Ph.D. in Economics from Yale University.
Guillermo Ortiz
He is Chairman of BTG Pactual Latin America ex-Brazil, was Chairman of Banorte (2010-2015), Governor of Mexico's Central Bank (1998-2009) and Secretary of Finance and Public Credit of Mexico (1994-1997). He has served on the Board of Directors of the International Monetary Fund, the World Bank and the Interamerican Development Bank. Dr. Ortiz holds a bachelor's degree in economics from National Autonomous University of Mexico (Universidad Nacional Autonoma de Mexico – "UNAM"), a master's degree and a Ph.D. in economics from Stanford University.
Federico Clariond
Serves as CEO of Valores Aldabra since 2011, and as CEO of Buro Inmobiliario Nacional since 2015. From 2007 to 2011, Mr. Clariond served as CEO of Stabilit Mexico, and from 2004 to 2007, as Commercial VP of IMSA Acero. Additionally, he is a board member of several companies ranging from financial services, aluminum, packaging and consumer goods industries. Mr. Clariond is a mechanical engineer and has an MBA from Stanford University.
Joaquin Gandara
Mr. Gandara serves as CEO of Stone Financial Awareness since 2017. Prior to Stone Financial Awareness, he worked at Scotiabank for 24 years where he held several positions in different departments such as Credit, Consumer Banking, Branch Operations and Corporate Banking. Mr. Gandara was selected to serve on the combined company's board of directors due to his extensive knowledge in the financial and banking field.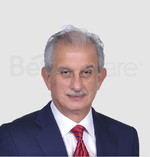 Jose De Jesus Valdez
Currently serves as CEO of Alpek. Prior to that role, he held several senior management positions, including CEO of Petrocel, Indelpro and Polioles, all subsidiaries of Alpek (1976-1988).
Salvador Alva
Salvador Alva Gómez is a consultant, entrepreneur and member of various boards and civil associations. He was President of the Instituto Tecnologico y de Estudios Superiores de Monterrey from 2011 to 2020, President of PepsiCo Latin America from 1983 to 2008 and Vice President of Marketing and Planning of Cerveceria Moctezuma from 1972 to 1982. Salvador holds a Bachelor's degree in Chemical Engineering from UNAM and an MBA from Universidad de las Americas.
Silvia Dávila
Silvia Davila currently serves as President of Danone LATAM. She has vast experience in financial and digital transformation achieving sustained business growth. Her leadership style is based on empowerment and team development, consistently building high-performing teams to simplify operations, adding value through processes, and promoting ideas that generate sustained growth. She is determined, committed and passionate, and always a strategic leader who develops people.
Silvia joined Danone in 2017 as Regional President LATAM for dairy products, and since 2020, she is a member of the Global Executive Committee and responsible for the operation in Mexico and for all categories in LATAM. Prior to Danone, she worked in Mars (2004-2017), Procter & Gamble (1992-2003) and McDonald´s Mexico (1989-1992). Silvia holds a Bachelor´s degree in Marketing from UNITEC, where she graduated with honors, a Master´s degree in Business Economics form ITESM and post-graduate studies from Harvard, IMD and INSEAD.
Mari Loli Sánchez Cano
Mrs. Mari Loli has extensive experience in the media and the direct selling industry. She joined Jafra Mexico in 1991 as a sales trainee. Before assuming the Presidency of the Company in 2007, she held management and executive positions in the sales and communication departments. In 2017, she received the recognition "The Most Trusted CEO" from the Great Place to Work organization in the category of 500 to 5 thousand employees of multinational companies, in recognition of his conviction to make diversity, inclusion, and empowerment the strategic axes of Jafra. Mari Loli has a B.A. in Communication from the Universidad Iberoamericana.
Reynaldo Vizcarra
Partner of Baker & Mackenzie Mexico since 1986. Mr. Vizcarra is a professor at the Anahuac University Mexico North Campus (Universidad Anahuac del Norte) and Panamerican University Mexico City Campus (Universidad Panamericana campus Ciudad de Mexico).